Emergency Medical Services Education
---
The Summit Point EMS Training Center is a highly capable, highly adaptable medical training provider. Courses ranging from basic CPR up to major medical intervention courses such as Mass Casualty or Tactical Combat Casualty Care are all taught by nationally accredited, active EMS/Paramedic personnel. At the Summit Point Training Center, medical training situations can be easily and seamlessly added to any other training event. The EMS Training Center is ready and willing to develop specifically tailored training programs to meet the idiosyncratic needs of any client. Some of the courses offered are:
---
some of the courses offered:
---
Advanced Cardiac Life Support (ACLS)
Advanced Medical Life Support (AMLS) (Initial and Recertification)
CPR/AED and First Aid
Emergency Medical Technician (EMT) (Initial and Recertification)
Emergency Vehicle Operator's Course (EVOC)
Geriatric Education for EMS (GEMS)
Hazmat Awareness for EMS
International Trauma Life Support (ITLS) (Initial and Recertification)
Mass Casualty Incident 1 & 2 (Initial and Recertification)
Paramedic Recertification
Prehospital Trauma Life Support (PHTLS)
Pediatric Advanced Life Support (PALS)
Pediatric Education for Prehospital Providers (PEPP)
Tactical Combat Casualty Care (TCCC)
Tactical Emergency Combat Care (TECC)
---
The EMS instruction staff believe in a fully immersive experience and bring high fidelity simulation to the courses with the use of three CAE Apollo™ simulators. CAE Apollo™ is a high-fidelity, tetherless and fully wireless adult patient simulator. CAE Apollo™ has all the benefits of CAE's modeled physiology to allow for more realistic patient behavior and responses to interventions. With tailored configurations for nursing or prehospital programs, CAE Apollo™ offers versatility and fidelity for individual or team training. Beyond the preconfigurations, Apollo™ can be tailored to fit any training scenario requirement. Apollo™ can, cry, seize, simulate arterial bleeding, emulate palpable pulses, has IV/IO access, sustain chest decompressions and advanced airway procedures, and defibrillate with real electricity at the same rate as a live patient- all while recording live feedback.
Clients are encouraged to work with the EMS Training Center prior to scheduling a training event in order to craft the perfect solution to specific training requirements.
Upcoming EMS Training Events:
---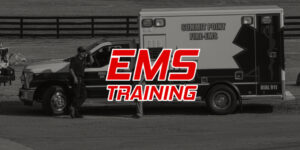 07 February 2023
- 26 April 2023
No event found!